Forklift Certification Online - Made Easy!
You can complete our OSHA-compliant online forklift certification course in as little as one hour!
We are a top provider of forklift certification training and workplace safety consulting in Southern California.  Now, forklift operators can receive our excellent and informative training content 24/7 from anywhere in the USA, 100% online! Welcome to First American Safety's Online Forklift Training Program!
Forklift certification training has been a core element of our family business for over ten years. It is something we have a passion for and take very seriously. Dozens of American workers are killed every year in forklift incidents, all of which could have been avoided! Studies have shown that trained forklift operators are involved in far fewer dangerous incidents than poorly trained or untrained operators. This is why OSHA requires that all forklift operators be trained and certified by their employer, and why we care so much about what we do.
Code 29 CFR 1910.178 of the Occupational Safety and Health Administration (OSHA) standards lays out the guidelines for safe operation of forklifts and other industrial lift trucks. Our 100% online forklift certification training complies with this regulation, and even goes beyond it. This way you or your employees will learn the best practices for operating forklifts in your workplace. This online course is based on our excellent training program that we have been using on location with our clients for a decade. We have trained and re-trained hundreds of operators in a variety of industries, including heavy construction, warehousing, and manufacturing.
Our online forklift certification training is designed to give students the information they need to become safe and efficient forklift operators. OSHA requires that operator training includes both formal and practical training. Our course covers the formal training requirement. After passing our course, students will simply need to be trained by their employer on the specifics of the machines they will be operating and the hazards of their specific work environment. The employer will then evaluate the operators' skills
This forklift operator training course is designed with the student's learning in mind.  We don't fill pages with boring OSHA code text.  We keep you interested with easy-to-read and informative material.
We have over a decade of experience in workplace safety management and forklift operator training.  Our program is one of the most detailed on the market.  It is designed in compliance with OSHA standards.
Don't have a fortune to spend on employee training? We are one of the most affordable online forklift training programs on the market! Many of our competitors charge twice as much for half the content
Our Frequently Asked Questions page will answer any remaining questions you have about our forklift course.
More Workplace Safety Courses Coming Soon
In addition to our excellent forklift training course, we plan to add courses for a variety of workplace safety topics.  These will be added soon.  Topics we plan to add include:
Lockout/Tag Out
Hazard Communications and GHS
Personal Protective Equipment
Safe Lifting
And Much More!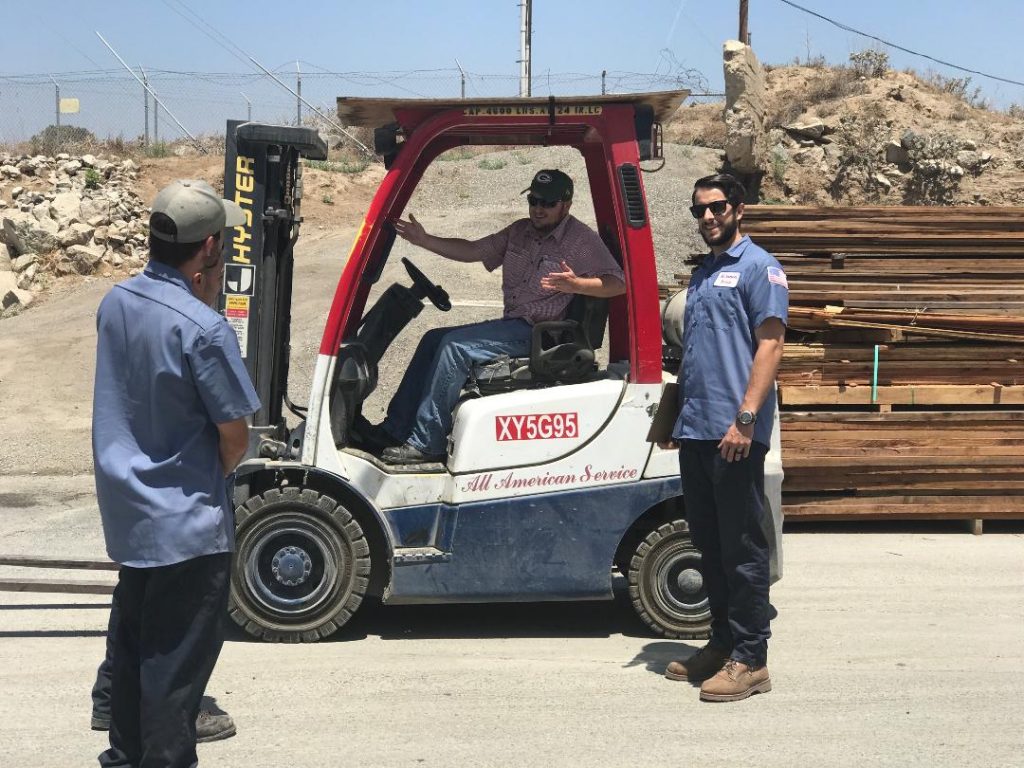 " I've run forklifts for years and have been through a few other online courses.  I chose this one for my refresher training and I was surprised how much new and potentially lifesaving information was included that I have never heard before.   On top of that, First American Safety costs far less than other websites that are inferior to them"